School Houses
Our House System
Throughout the year, our children earn house points for their achievements across the curriculum. They also compete against each other in house competitions. Each house is led by two pupil-elected representatives from year 6.
Durham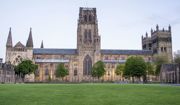 Durham, North-East of England, is well known for its Norman cathedral and 11th-century castle. The name "Durham" comes from the Old English "dun", meaning hill, and the Old Norse "holme", which translates to island. Built in 1093, Durham Cathedral has been a place of pilgrimage and worship for almost a millennium. Durham's famous castle - also part of the Durham UNESCO World Heritage Site - was presented by William the Conqueror to the city's prince-bishops.
Winchester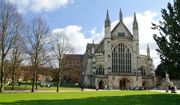 Winchester, in Hampshire, was originally a hill fort and trading settlement created in the Iron Age. Winchester's cathedral has its roots in the seventh century, when England's pagan monarchy first became Christians. Winchester is also well known for the Great Hall of its castle, which was built in the 12th century. The Great Hall was rebuilt sometime between 1222 and 1235, and still exists in this form. It is famous for King Arthur's Round Table, which has hung in the hall from at least 1463.
Canterbury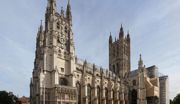 Canterbury, in Kent, has been a European pilgrimage site of major importance for over 800 years since the assassination of Archbishop Thomas Becket in 1170; Canterbury is also a UNESCO World Heritage Site. Canterbury is the home of the Archbishop of Canterbury who is the senior bishop and principal leader of the Church of England, the symbolic head of the worldwide Anglican Communion.
York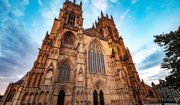 York, in North Yorkshire, is home to York Minster which is the tallest building in York and is probably the most famous. York Minster is one of the largest and finest of its kind in Northern Europe. The minster seat is the seat of the Archbishop of York, which is the second highest seat in the Church of England. York is famous for its Roman walls which have stood for centuries. Over the years they have withstood numerous attacks and pillaging of their stones, but substantial portions of the walls remain, making them the most extensive examples of Roman walls in England.