Music at St Bart's
At St Bart's we pride ourselves on providing a rich, dynamic and inclusive music curriculum.
All teaching staff are skilled in teaching the music national curriculum and there is a progression of skills and knowledge which ensures children leave the school with a good understanding of musical skills, such as, notation, composition and performance. More information on the curriculum can be found within the Music Knowledge Organiser on our website:
Extra Provision
We provide a variety of extra-curricular music clubs at our school. We have a school orchestra which runs all year, and we welcome all abilities and musical instruments. Our school choir, which also runs throughout the year, often performs within the local community in events such as carol singing, performing at social events and singing at local care homes.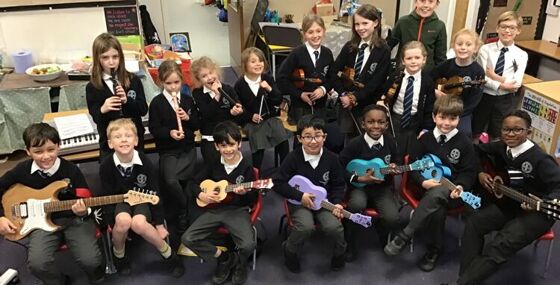 The Music Works
We have our very own contemporary music school in partnership with The Music Works. The centre is situated on our school site and it provides us with a recording studio, a drum suite, a guitar room and a keyboard room. The centre is strictly for use by our children and staff throughout the school day. After school and on Saturday mornings, it is open to the general public for individual or group lesson in singing, drums, guitar, ukulele and keyboards. To book a free taster lesson please visit:
www.themusicworks.uk/freelesson
Surrey Arts
We also facilitate individual and group lessons during the school day with Surrey Arts who provide tuition in a variety of instruments including strings, woodwind, piano and brass. Details about Surrey Arts can be found via this link:
https://www.surreycc.gov.uk/culture-and-leisure/arts/music/lessons-for-children